New rate of Advalorem and Pass Fee Notification for BIO Beer click here to download the original scanned copy of Notification
(Advalorem rate is 10% of Cost price and Pass fee fee is Rs 100/- per case)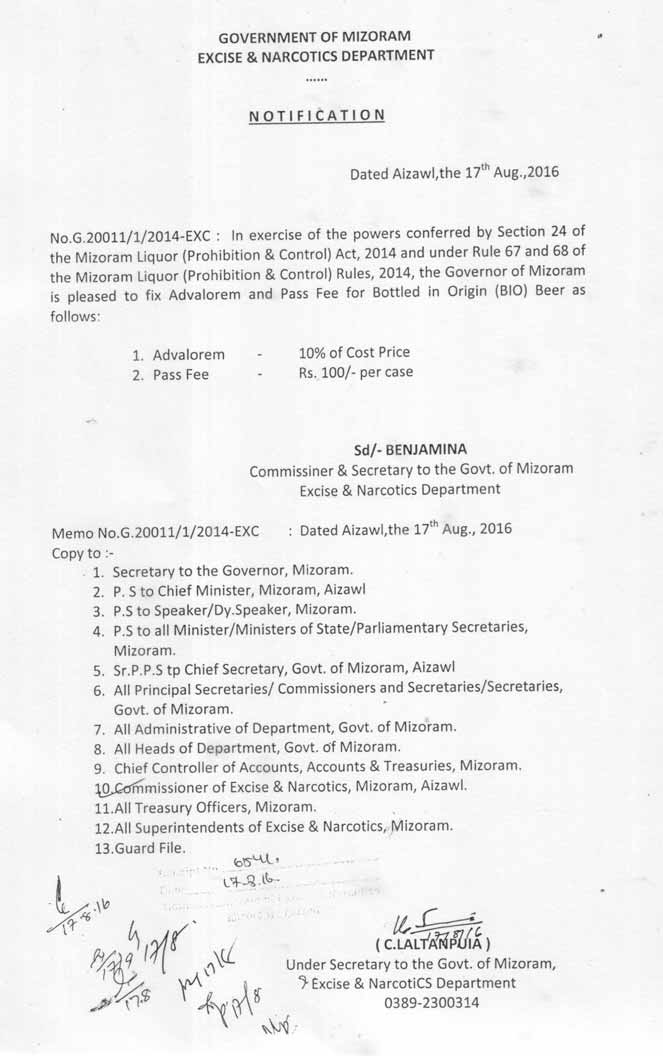 New Pass Fee Notification for BIO click here
You can download the below Notification in pdf or image:
* click here for pdf [2.19 mb]
* click here for image file format [862kb]
GOVERNMENT OF MIZORAM
EXCISE & NARCOTICS DEPARTMENT
NOTIFICATION
Dated Aizawl, the 18th June, 2015
No. G.20011/1/2014-EXC : In partial modification of this Department's Notification of even No. dt. 3.2.2015, wherein the rates of various Excise Duties of different Brands of IMFL were notified, a separate Excise Duty of different BIO products are fixed as below with immediate effect and until further orders.
| | | |
| --- | --- | --- |
| Overseas Spirit | Overseas Foreign Liquor(BIO products) for cost price range of Rs.0 and above per case of 12 bottles of 750 ml. size or equivalent quantity, all at 75% proof spirit | 10% advalorem levy on the cost price subject to a minimum of Rs. 3200.00 per case of 12 bottles of 750 ml. size or equivalent quantity, all at 75% proof spirit. |
| Overseas wine | (a) Overseas wine (BIO Products) containing not more than 42% proof spirit for cost price range from Rs. 0 and above per case of 12 bottles of 750 ml. size or equivalent quantity. | 10% advalorem levy on the cost price subject to a minimum of Rs. 390.00 per case of 12 bottles of 750 ml. size or equivalent quantity. |
| | (b) Overseas wine(BIO products) containing more than 42% proof spirit, for cost price range Rs. 0 and above per case of 12 bottles of 750 ml. size or equivalent quantity. | 15% advalorem levy on the cost price subject to a minimum of Rs. 880/- per case of 12 bottles of 750 ml. size or equivalent quantity. |