[for English click here]
Vawiin 26th June, 2013 dar 7:00 AM 'International Day Against Drugs Abuse & Illicit Trafficking' ni denchhenin Excise & Narcotics Department-ina Drugs chi hrang hrang an man chu New Secretariat Complex, Aizawl, Mizoramah an hâl ral a. He hunah hian Pu _, Hon'ble Chief Minister chu Chief Guest niin, Lt. Col. Z.S. Zuala, Parliamentary Secretary to Excise & Narcotics Department chu Guest of Honour a ni.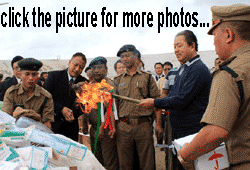 Click the above picture or click here for more photos of the day
Ruihhlo halralna hun hi Pu Lalbiakmawia Khiangte, Commissioner of Excise & Narcotics, Mizoram chuan kaihruaiin ram hrang hrang te buaipui pakhat chu ruihhlo a nih thu sawiin, kumtin, International Day against Drugs Abuse & Illicit trafficking chu June ni 26-ah hman thin a nih thu a sawi a ni.
He halralna huna khuallian Chief Minister Pu _ chuan kalkhawmte chu ruihhlo dona kawnga tangrual turin a sawm a. Ruihhlo do kawnga sorkar department te leh tlawmngaipawl te thawhhona tha tak avangin lawmthu a sawi a. Mizoram hi ruihhlo leh thil chi dang hmanga run mek a ni a. Hemi laka vengtu leh a chhe lai siamthatu tur chu ram leilung fate an nih thu a sawi a. State pawn lama ruihhlo mana mizo an tel thin chu tha lo a tih thu a sawi a, Mizoram zalenna hmang dik lotute do rawn turin ram leilung fate a sawm a ni.. Thawktute inpekna leh thawhrimna vanga ruihhlo thahnem tak halral a ni chu lawmawm a tih thu a sawi bawk. Thawktute chu mahni hnaa tui turin a sawm bawk a ni.
Thu a sawi zawh hian khuallian chuan ruihhlo mansa te hi a halral ta a ni.
Sl.

No

Particulars

of Drugs

Seized by Excise & Narcotics

Seized by

Police

Total

1

Heroin

3.008 Kgs

4 pieces

in paper

3.008 kgs and 4 pieces in paper

2

Ganja

247.279 kgs

28.18 kgs

275.459 kgs

3

Nitrazepam

10,593

103

10,696 tablets

4

Alprazolam

153

-

153 tablets

5

Parvon Spas

7,70,148

872

7,71,020 capsules

6

Proxyvon

18,538

1,200

19,738 capsules

7

Pseudoephedrine

2,90,79,282

18,050

2,90,97,332 tablets

(3539 kgs)

8

Klonaza

20

-

20 tablets

9

Codse Syrup

-

98

98 bottles

10

Syringe

-

8

8 Nos

11

China Yeast

-

39

39 packs

TOTAL Value (Approximate)

Rs. 22,79,00,478/-