Today, on 26th June, 2013 at 7:00 AM the Excise & Narcotics Department burnt seized drugs at New Secretariat Complex, Aizawl, Mizoram to mark the "International Day Against Drugs Abuse & Illicit Trafficking". In the function, Mr. _, Hon'ble Chief Minister was the chief guest while Lt. col. Z.S. Zuala, Parliamentary Secretary to Excise & Narcotics Department was the Guest of Honour.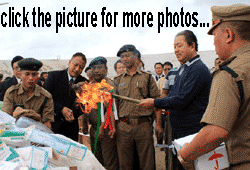 Click the above picture or click here for more photos of the day
The function was chaired by Mr. Lalbiakmawia Khiangte, Commissioner of Excise & Narcotics, Mizoram. He said that drug is one of the major problem faced by the world, thus, the International Day against Drugs Abuse & Illicit trafficking was held every year on 26 June.
Mr. _, Hon'ble Chief Minister who is the chief guest at the function pleaded to everyone to united in their fight against drugs. He expressed his gratitude on the good relationship of the Government and other Organisations and NGOs in the fight against drugs. He said that Mizoram is being attacked by drugs and other means and it was the duty of the (indegenious) people to prevent the country from the onslaught of such misery. He asked the people to fight any drugs trafficker who tries to take advantage of the peacefulness of the state. He also disgraced that some people are involved in drugs seizure outside the state. He thanked all personnel in the Department for their sacrifice and hard work that such a large number of drugs being burnt. He urged all personnel to give into more of their duties.
After that the Chief Guest burnt the following seized drugs.
Sl.

No

Particulars

of Drugs

Seized by Excise & Narcotics

Seized by

Police

Total

1

Heroin

3.008 Kgs

4 pieces

in paper

3.008 kgs and 4 pieces in paper

2

Ganja

247.279 kgs

28.18 kgs

275.459 kgs

3

Nitrazepam

10,593

103

10,696 tablets

4

Alprazolam

153

-

153 tablets

5

Parvon Spas

7,70,148

872

7,71,020 capsules

6

Proxyvon

18,538

1,200

19,738 capsules

7

Pseudoephedrine

2,90,79,282

18,050

2,90,97,332 tablets

(3539 kgs)

8

Klonaza

20

-

20 tablets

9

Codse Syrup

-

98

98 bottles

10

Syringe

-

8

8 Nos

11

China Yeast

-

39

39 packs

TOTAL Value (Approximate)

Rs. 22,79,00,478/-